Here are a few of pictures I found of Halkidiki, the place where Rachel went and "fell in love", as she said.
Halkidiki is a Penninsula at the North of Greece, very close to my hometown, Thessaloniki.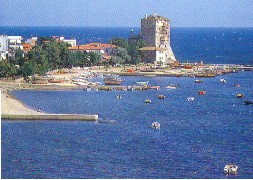 It's breathtakingly beautiful as you see in the pictures, the sea is crystal clear, the hotels are super lux and of course the food is the most delicious on earth!
I've been twice, one for holiday when I was little and one when I was 23, and I was touring with an American amateur theatrical company, giving performances of The Three Penny Opera (Roger D. comes to mind) and Carnival.
Ah, summer nostalgia in the middle of December!