I am having the time of my life!
Only the fact that I can sleep as much as I want is enough. Top it up with some friends, blogging, the unexpected Attic Show and lots of music, then you have my ideal way of fun.
But, this past week has been truly amazing for one reason only: London.
A few months ago I downloaded from iTunes a podcast called
London Walks
by
Robert Wrigh
t, with the idea of using them when my mum arrives in April, so we could have a guided tour.
The podcast got updated every week and was silently waiting for me to use it. A few days ago I was mixing and fixing something on my iTunes when accidentally a soft music and a soft voice transported me into inner Kensington... I decided that with my days off coming, I would take that walk.
I did on Tuesday and it was absolutely breathtaking. I didn't know (well, yes of course I did, but not as much) London has so many beautiful buildings. I fell in love all over again. Unfortunately, I didn't have my camera with me, so no photos. But the walk, lasting about an hour and a half was amazing. Little cobbled pedestrianised streets, alleyways, squares with bricked mansions, historic pubs and of course very posh people walking around... The narration and guidance by Robert Wright was so interesting and enjoyable I didn't want the walk to end.
Today I was meeting some friends downtown, so I decided to take another walk, this time armed with my camera. The walk today was Legal London and The Da Vinci Code.
What can I say? It was like a dream. A London I had no idea existed. The architecture and the preciousness of the buildings is beyond description. I went through numerous Barristers' Inns, Chambers and Courts via archways and alleys, I visited Temple Church, but unfortunately it was closed-so only from the outside, I went through the vibrant area of London School of Economics, with students all around and dozens of beautiful pubs. For almost two hours I was oooing and wowing from the unbelieveable sights.
The area is just a treasure, so on your next visit to London don't just go to Buckingham Palace and Picadilly Circus. Go to Chancery Lane and take the tour, with the company of Robert's soothing voice. I highly recommend you subscribe to his podcast.
Here are some pictures so you'll get a small idea of the beauty.
Click on some of them to experience the real thing.

A beautiful stained glass window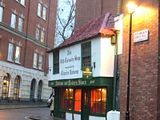 The Old Curiosity Shop made famous by Charles Dickens



The Royal Courts of Justice. You can't imagine how huge and majestic is this building!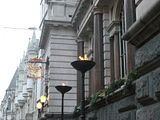 The flames are burning next to the Royal Courts of Justice...





How old can this building be? And how much the new building is ruining the view...



A plaque opposite Temple Church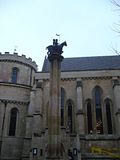 Temple Church and two Knights on a horse



Temple Church




A gorgeous archway leading to one of the numerous breathtaking courts



Shadows we are and
Like shadows we depart




The ellaborate entrance to Lloyds bank



And the entrance to one of the Solicitors' courts.


I hope you enjoyed it as much as I did.
xxM